FULL_TIME
Software Solutions Architect

-

NN Belgium

2023-12-04

2023-12-09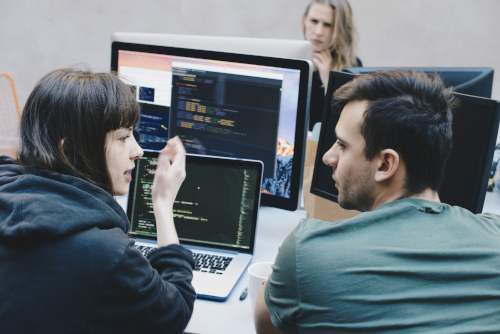 You will strengthen the IT Delivery team that designs, develops and runs all the applications for NN Belgium. Our approach is Agile, so we work together faster and smarter. There is plenty of room for initiative, and we achieve visible results together in a challenging context.
We are looking for a Software Solution Architect for our IT Software Engineering organization who has a passion for change in the field of IT. As a Software Solution Architect, you will be part of our IT Software Engineering department. The IT Software Engineering department designs, develops and runs all application chains for NN Belgium. The department is divided into different domains with an end-to-end business focus.
A domain can be considered a chain with a business scope. For example, finance and risk processes, end-to-end process from portal to administration systems for customers, document handling processes for operations, etc.
What is your impact as a Software Solution Architect at NN?
As our future Software Solution Architect, you will be part of an agile IT Software Engineering domain with a specific business focus. On the one hand, you understand the Enterprise architecture and its principles and translate them into your specific domain. On the other hand, you provide input from your specific do-main to steer the Enterprise architecture. It is your responsibility to make the domain architecture under-standable within your team. In doing so, you will support analysts in translating the business needs into concrete solutions in accordance with the guidelines. The final responsibility for the compliance of the implementations lies with you. You are an active member of the architecture team and work closely with the Domain IT Lead, Enterprise Architect, Security Officer, Scrum teams and Squads within your domain.

How will you do this in practice?
As Solution Architect, you will be responsible for analysing business requirements, assessing existing systems and data flows, and creating technology solutions that align with architectural principles and guidelines.

You will be responsible for building and leading the design of specific feature in your domain.

You will be to translate business needs to tangible technical solutions.

You go the extra mile and think out of the box to bring value to our customer's life.

You contribute to the target architecture Roadmap.

You will propose innovative solutions, defend your solution in Architecture board and reuse existing assets or create reusable assets in your design.

You are familiar with the security , performance , monitoring by design.

You actively seek cooperation with the other IT Software Engineering domains, Solution Architects, Enterprise Architect and the business stakeholders.

You have a clear view of the (un)possibilities of architecture and how to apply them.

You have a passion for your domain and are up-to-date with the technical developments in this do-main.

You proactively keep your knowledge and skills up to date. You will continue to develop yourself and lead functional and technical Engineers.
We're looking for someone who can make a difference – and you can!

Our ideal candidate has at least 7 years' experience as a Software Solution Architect in a complex IT landscape. Relevant experience in insurance world will be an asset. You have a relevant master's degree and you are known as a passionate IT professional with a sharp eye for delivering working business solutions, with a strong technical background (technology, IT platforms, LCM, architecture, connectivity, security & risk) in your domain.
• Architecture principles (infrastructure, application, data, integration), patterns, best practices, etc. are known to you
• In the past, you have already worked on application integrations and transformation processes.
• Monitoring the security, performance and compliance guidelines are part of your design processes.
• You want to have an impact and make your mark within the domain to convey architecture
• You are eager to learn and also like to share your own knowledge with others
• Your experiences with architectural developments took place in an agile environment
• You are fluent in the Dutch/French and English languages, both orally and in writing
Desired Technical skills:
Very good knowledge of architectural integration patterns (services, API, event-driven architecture, etc.) and concepts (SOA, componentization, micro services, micro front-ends, etc.)

Extensive experience in architecture modelling tools and architecture methodology and framework (e.g. Archimate , Orbus..)

Cross APP development knowledge (React Native , react js)

Good knowledge of Azure Cloud Services
We will ask quite a lot of you, but you will get a great deal in return. What does NN have to offer you?

Care. Clear. Commit. NN provides a job that works for you.

NN needs people like you. People who are genuine and committed; people who are willing to give the best of themselves to our customers, bringing fresh ideas and the necessary drive to take the initiative. People who find our values logical and understandable. Any especially people with a unique personality that can make all the difference. So, just be yourself. That's something we really appreciate at NN!

How?
You will receive an attractive salary, supplemented by fringe benefits that include:
group and hospitalisation insurance, meal vouchers and eco-vouchers, 20 days of holiday a year, plus 12 days of working time reduction leave

You will be given the opportunity to discover and grow your unique talents so that you can develop your career further.
There's a whole range to choose from: personalised training programmes, workshops, coaching, on-the-job learning and so on.

At NN we know very well how important wellbeing is! That's why we focus on achieving a good work-life balance. Working from home, flexible working and online fitness classes are all there to make it easier for you to find the right balance.

And to give your creative side a helping hand, we have also thought carefully about providing an enjoyable, totally refreshed working environment, located in bustling Brussels, where you can feel at home, easily accessible with public transport.