FULL_TIME
Functional Analyst Data Modelling

-

NN Belgium

2023-12-04

2023-12-09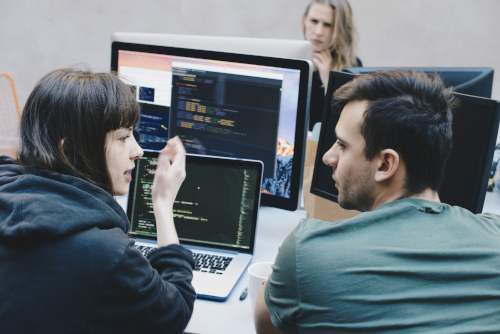 What impact will you have as Functional Analyst at NN?

As a functional analyst, you provide the link between business and developers within NN. You collect and analyse business requirements and needs in order to arrive at a fully functional analysis. You translate business requirements into functional solutions, taking into account architectural vision.
You understand the different back-office systems and the flows and how they interlink

You check the feasibility, the completeness and the coherence of the requirements

You document, adapt, or validate the Business rules and their calculation

You document the (non) functional requirement, the specifications and make them clear and understandable for the developer.

You design the flow and formulate business rules from requirements.

You maintain the uniform enterprise datamodel over all departments and tools in the lake

In doing so, you deliver the necessary functional documentation for the team and the business. If necessary, you will go beyond your role by diving into more technical aspects or providing more support to the business analyst within assignments.

You have an E2E mindset: you also take into account the whole environment of your applications and are willing to pay attention to business and technical impacts of the functional solutions
We are looking for someone to come and make the difference - and that someone could be you!
Demonstrable experience as a functional analyst

Experience in the different deliverables used to make a functional analysis (e.g. context diagrams, use stories/use cases, logical data models, or fit-gap analyses, activity diagrams or BPMN diagrams, ….

Data modelling & data mapping (be able to consolidate different source systems in order to arrive at a common data model

Knowledge of Domain Driven Design principles and patterns is a must

Star Schema / Snowflake diagram

Queries on database (SQL) and Delta Lake

A strong knowledge of English. A knowledge of Dutch or French is an additional asset

Strong analytical skills: a critical, problem-solving and proactive mindset with a 'hands-on' approach

Knowledge of life insurance concepts, IFRS 17 & insurance accounting is an asset

Experience with business cases and analyses for AI projects on the Azure stack. Knowledge of Power BI, SSRS, ADF (Azure data factory) and Databricks (Scala) is an asset.

Communication is key in this role, both with your team and with internal or external stakeholders. Being a team player and taking ownership form the rationale behind our Agile way of working.
We will ask quite a lot of you, but you will get a great deal in return. What does NN have to offer you?

Care. Clear. Commit. NN provides a job that works for you.

NN needs people like you. People who are genuine and committed; people who are willing to give the best of themselves to our customers, bringing fresh ideas and the necessary drive to take the initiative. People who find our values logical and understandable. Any especially people with a unique personality that can make all the difference. So, just be yourself. That's something we really appreciate at NN!

How?
You will receive an attractive salary, supplemented by fringe benefits that include:
group and hospitalisation insurance, meal vouchers and eco-vouchers, 20 days of holiday a year, plus 12 days of working time reduction leave and 5 days of additional leave.

You will be given the opportunity to discover and grow your unique talents so that you can develop your career further.
There's a whole range to choose from: personalised training programmes, workshops, coaching, on-the-job learning and so on.

At NN we know very well how important wellbeing is! That's why we focus on achieving a good work-life balance.
Working from home, flexible working and a fitness area with group classes are all there to make it easier for you to find the right balance.

And to give your creative side a helping hand, we have also thought carefully about providing an enjoyable, totally refreshed working environment, located in bustling Brussels, where you can feel at home and easily accessible with public transport.